59th AAFF Features in Competition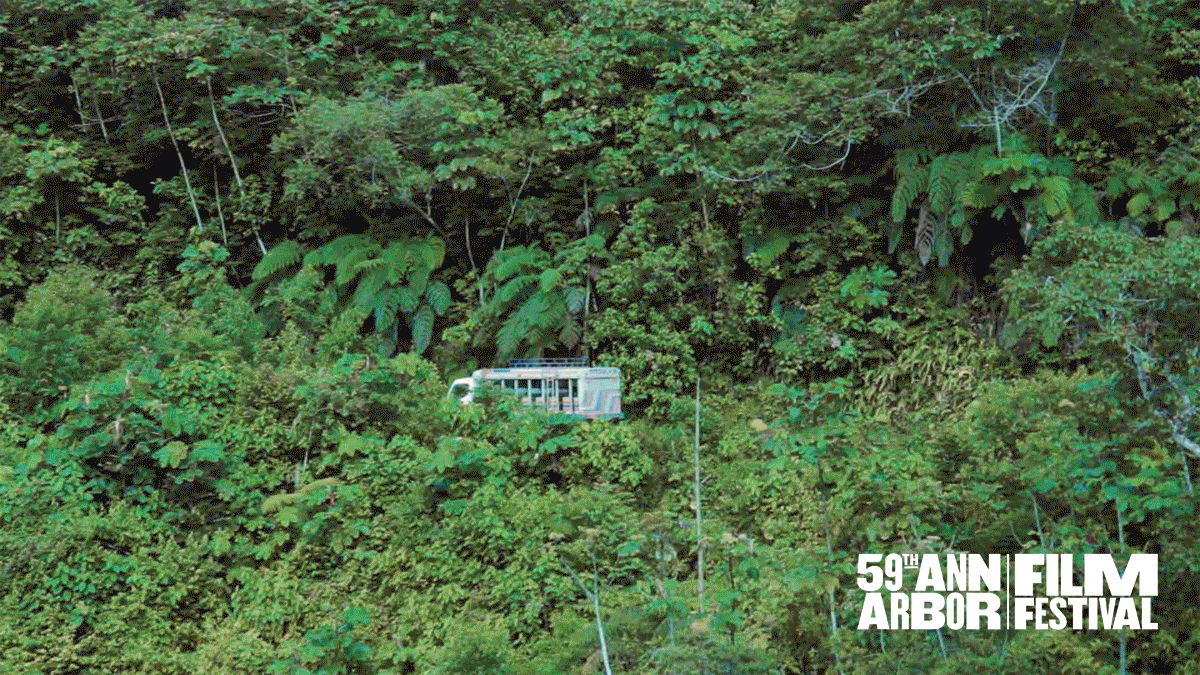 This year the 59th Ann Arbor Film Festival is presenting eleven features in competition. They are available for on-demand viewing from March 23 until March 31. Get your tickets and check them out below.
Al Largo


Filmmaker Names: Anna Marziano
Location of Production: Padoua, Italy / Berlin, Germany
Year of Completion: 2020
Runtime: 61
North American Premiere
Immersing us in a sea of words and images, Al Largo brings us into contact with the experience of suffering. Dissolving the polarity between egoism and altruism, taking care becomes a gesture which alone seems to resist in front of the excessive power of life.
A Machine to Live In


Filmmaker Names: Yoni Goldstein, Meredith Zielke, Sebastian Alvarez, Andrew Benz
Location of Production: Brasilia, Brazil
Year of Completion: 2020
Runtime: 120
A hive-like consciousness scans a space-age metropolis: an unstable landscape of mystical architecture and oneiric technology emerges. From this cosmic dream, the specter of totalitarianism takes form. A Machine to Live In is a sci-fi documentary about the utopian imaginary, set in the Brazilian hinterlands.
The Annotated Field Guide of Ulysses S. Grant


Filmmaker Names: Jim Finn
Location of Production: United States
Year of Completion: 2020
Runtime: 61
For four years in the 1860s, half of the United States was held hostage by an unrecognized white supremacist republic. Shot on 16mm in national military parks, swamps, forests, and the suburban sprawl across the former battlefields, the film follows General Grant's path liberating the southern United States. Part travelogue, part essay film, part landscape documentary, it moves from the Texas-Louisiana border to a prison island off the coast of New England. But instead of relying on actors, vintage photos, and the sounds of bullets and explosions, the battles are illustrated with the paper reenactments of hex-and-counter wargames and bubblegum cards from the hobbyist gamer subcultures that have sprung up around the Civil War. The sound and music are inspired by 1970s crime films to celebrate the destruction of the Confederacy with the synth jams they deserve.
Instructions for Survival


Filmmaker Names: Yana Ugrekhelidze
Location of Production: North Rhine-Westphalia, Germany
Year of Completion: 2021
Runtime: 72
World Premiere
Alexandre is a transgender person who has lived with his girlfriend Marie for more than seven years. Because of the mark "female" in his passport and his trans identity, Alexandre cannot find a job and has to lead a secret life. The violence and discrimination based on sexual orientation and gender identity brings the couple to the decision to leave their homeland. To afford this exodus, Marie signs a contract to be a surrogate mother.
The Inheritance


Filmmaker Names: Ephraim Asili
Location of Production: Troy, New York / Philadelphia, Pennsylvania
Year of Completion: 2020
Runtime: 100
Ephraim Asili's The Inheritance weaves histories of the West Philadelphia–based MOVE Organization, the Black Arts Movement, and dramatizations of the life of the filmmaker when he was a member of a Black activist collective. Centering on what Asili describes as a "speculative reenactment" of his time in a West Philadelphia collective, the actors' scripted lives on set are entwined with cameos by MOVE members Debbie Africa, Mike Africa Sr., and Mike Africa Jr., as well as poet-activists Sonia Sanchez and Ursula Rucker.
Iwianch, el Diablo Venado


Filmmaker Names: José Cardoso
Location of Production: Taisha, Ecuador
Year of Completion: 2020
Runtime: 91
North American Premiere
An enigmatic presence haunts the depths of the Amazon rainforest, where an indigenous Achuar teenager has disappeared. During the search for the young man, secrets of the rainforest and Amazonian visions of life after death are touched, vanishing the documentary filmmaker's concepts of reality.
Just a Movement


Filmmaker Names: Vincent Meessen
Location of Production: Brussels, Belgium / France
Year of Completion: 2021
Runtime: 110
North American Premiere
In Senegal, the name Omar Blondin Diop evokes an unpunished state crime. In France, this name is associated with the Marxist militant featured in La Chinoise, a political futuristic movie by Jean-Luc Godard. Today in Dakar, Diop's brothers and close friends remember him while the local youth plays with its own destiny under the imperfect present of the China-Africa connection.
małni—towards the ocean, towards the shore
Filmmaker Names: Sky Hopinka
Location of Production: Washington / Oregon
Year of Completion: 2020
Runtime: 80
This film follows Sweetwater Sahme and Jordan Mercier's wanderings through each of their worlds as they wonder through and contemplate the afterlife, rebirth, and the place in-between. Spoken mostly in Chinuk Wawa, their stories are departures from the Chinookan origin of death myth, with its distant beginning and circular shape.
Purple Sea


Filmmaker Names: Amel Alzakout, Khaled Abdulwahed
Location of Production: Berlin, Germany
Year of Completion: 2020
Runtime: 67
"I see everything," she says as if it was a curse. Brilliant sunshine, clear blue skies. The sea is calm, framed by a piece of railing. A peaceful moment, if it weren't for the fact that the sea is standing upright, vertical, like a waterfall. A rush of images, twirling, upside down, jolting. People in the boat, in the water, screams, life jackets, emergency whistles. There's no horizon anymore, no sky, no up or down, only deepness and nothing to hold on to. Even time's flow comes to a halt, contracting into the brutal present. She is filming and speaking. To beat being tired, being cold, the fact that help isn't coming. To beat dying, just for something to remain.
Due to an agreement with the filmmaker, Purple Sea will only be available to audience members in the US (except New York state).
The Quoddy Fold


Filmmaker Names: Paulette Phillips
Location of Production: West Quoddy, Nova Scotia
Year of Completion: 2019
Runtime: 56
United States Premiere
An abandoned settler-house, perched on the edge of the Atlantic Ocean, is the subject of The Quoddy Fold. For the period of a year, Phillips engaged in an ontological dialogue with the disintegrating house. Progressing to a dramatic and inevitable conclusion, The Quoddy Fold contemplates dwelling, human detritus, and the nature of impermanence.
THE VIEWING BOOTH


Filmmaker Names: Ra'anan Alexandrowicz
Location of Production: Philadelphia, Pennsylvania
Year of Completion: 2019
Runtime: 71
What are we actually seeing when we look at documentary images? To what degree do we believe our eyes, and what extrasensorial factors define our doubts and investment in what is visible? Minimalist in approach yet far-reaching in its application and consequence, The Viewing Booth forms a one-of-a-kind cinematic testimony to the psychology of the viewer in the digital era.